The Art of Handmade Patina
You might have seen the word "patina" before, or maybe you have come across some amazing pictures on our Instagram account and wondered what is behind the scenes.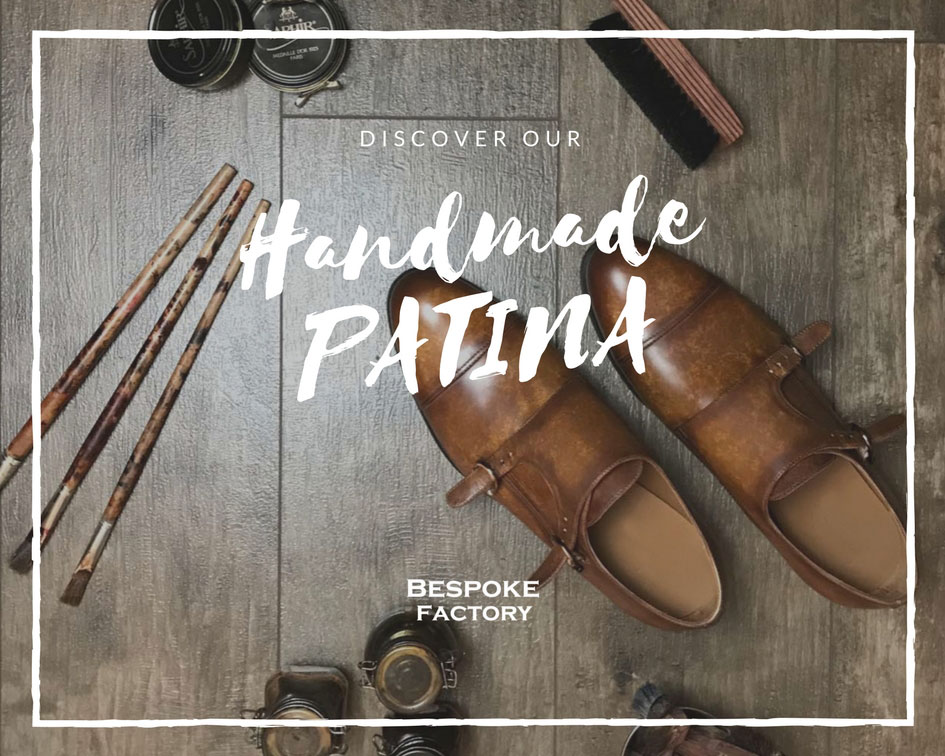 Patina is an art crafted and designed for shoes by Olga Berluti, member of the famous French brand Berluti which took the world by storm in the 80's. Hand coloring of shoes was then a fairly new thing in the world of luxury shoes and leather products.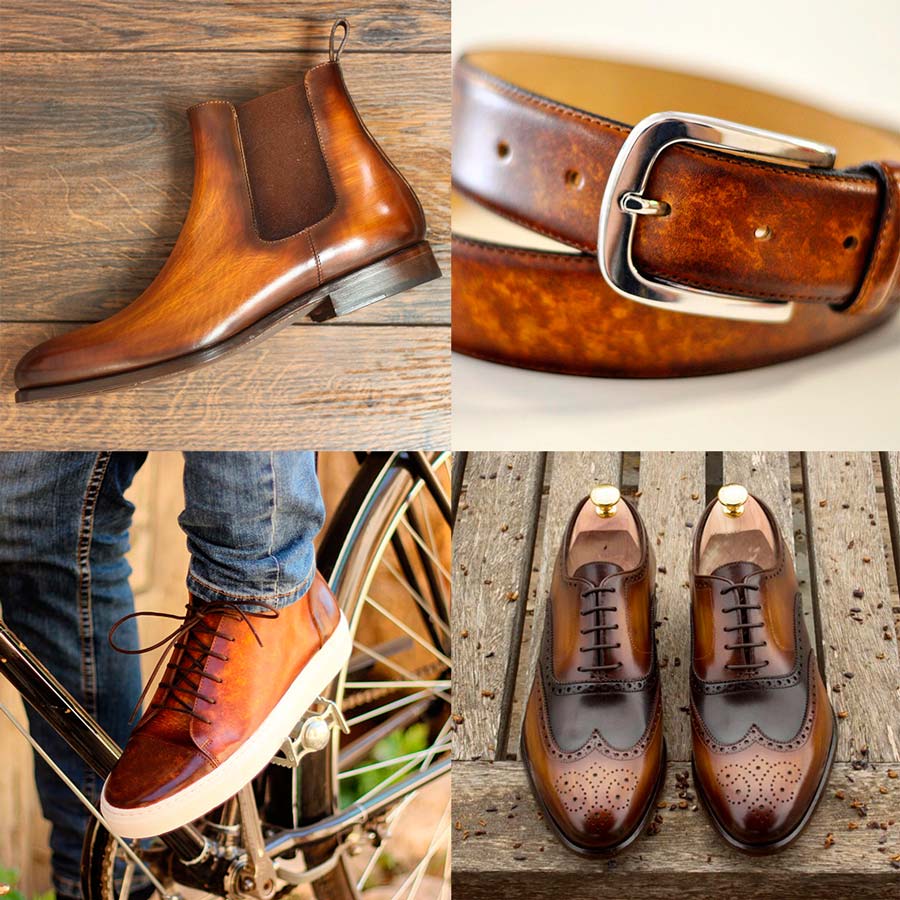 An Antique Finishing Technique for Leathers
The patina art craft method is a hand dyeing procedure of leather, which creates a completely unique patina with an aged effect. The procedure begins with unfinished crust leather, which has been tanned and handled, but not dyed yet.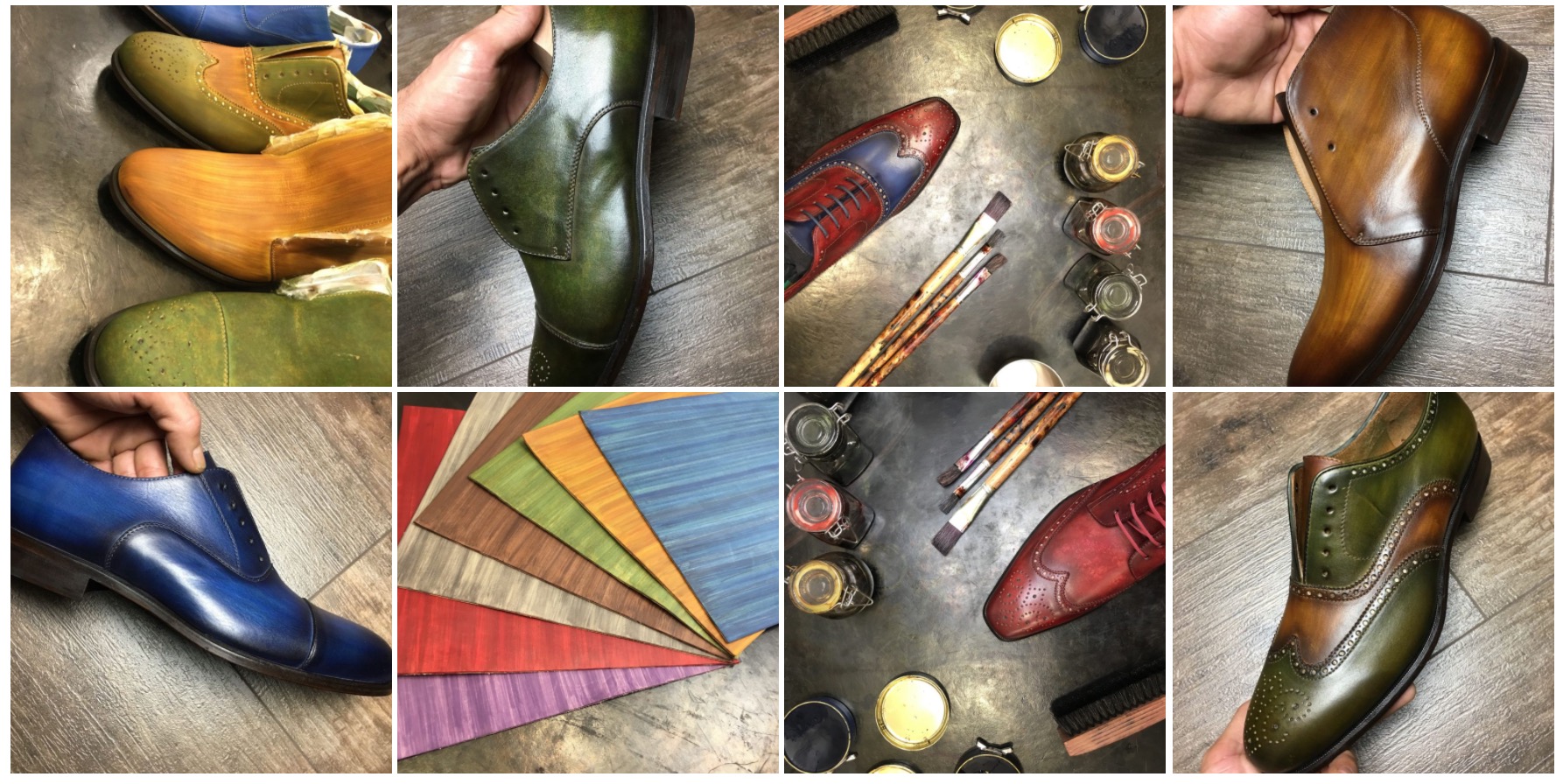 The artist applies the dyes manually to the uncut hide and the fully assembled shoe, with the usage of white cloths, brushes and sometimes sponges, to create a unique look on each and every pair of shoes. With attentive care and superior savoir-faire, a dedicated craftsman perfects the personality of each pair of shoes, helping forge their special "soul".
The Patina Artist, a Very Skilled Job
The Patina art craft is still considered to be very young. There are many patina techniques still to be discovered. Very few artists lead this new art, and we are proud to work with the best patina artist in the country.
Discovering new coloring techniques and using secret recipes and materiales makes the patina artist job a very skilled and unique one. A good patina artist is able to reproduce a color precisely on demand, and uses it effectively on shoes as also on belts, bags or any other luxury leather goods.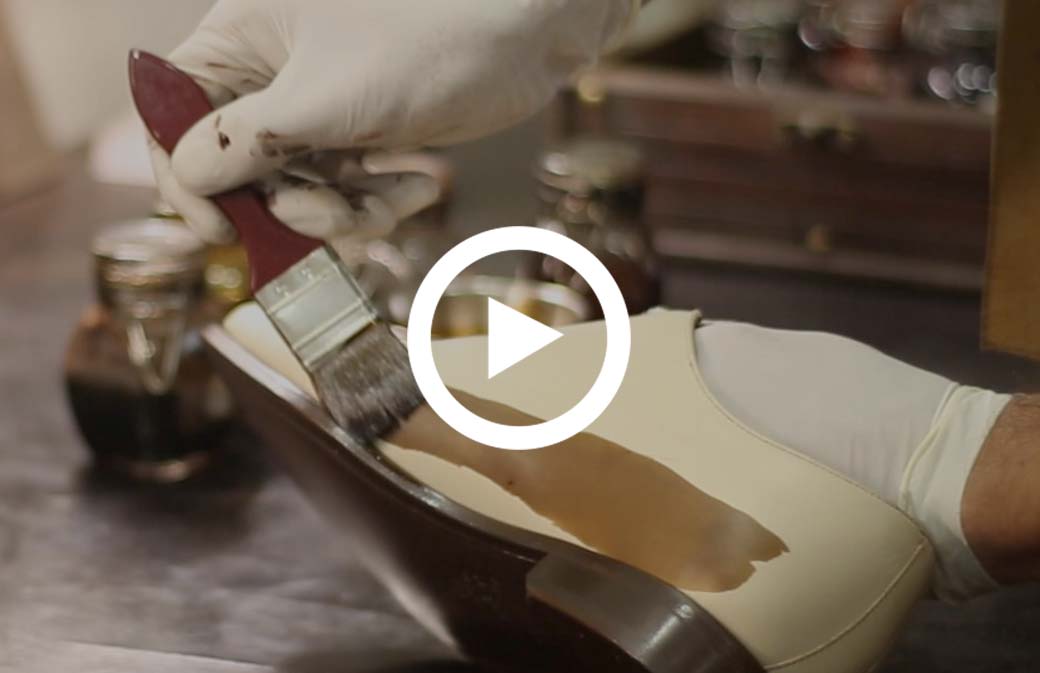 The patina artist initially tries to impart a look on the shoes that make them appear older an aged. Colors are faded to create a nice old world charm to the shoe, which is attractive to the eye and comfortable to the fit. What can be more seducing than leading an old world charm to a modern day marvel?!
The new shoes bought and manufactured in a modern day set up are jaded and impersonal. This art craft and the colorist's work on it cater to personalization of the product. These art pieces formed will probably be looked upon as collection pieces 40 years down the road!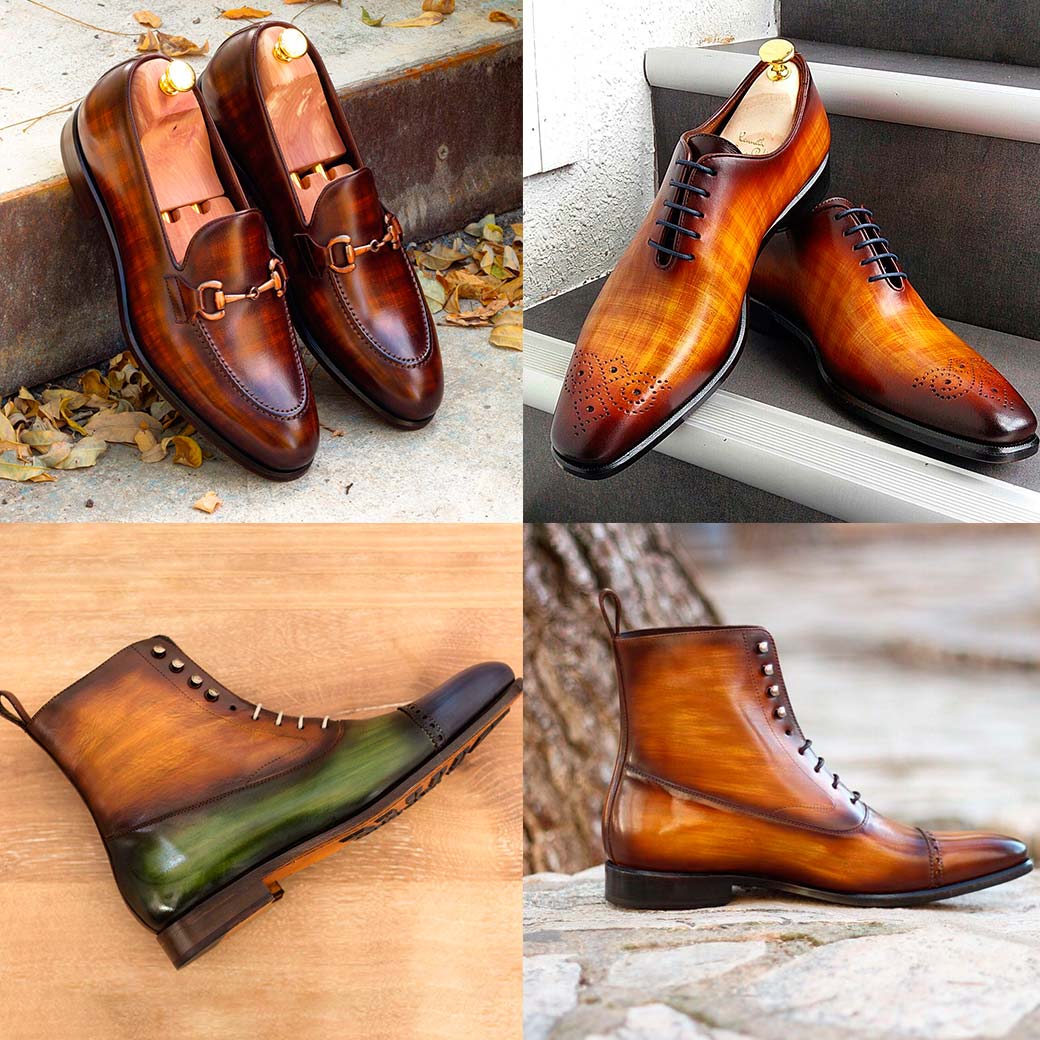 The materials used in the process are of utmost importance and quality. The leather, polishes, creams and other materials make all the difference in this.  For a true connoisseur, its very important to know which the best product is.
Our patina artist uses basic colors and recreates the magic by mixing different colors as per the customer's demands. Also, he is aware and knowledgeable when it comes to the leathers reaction to various materials in the process. Only a truly fine patina artist has mastered the art of raising the end product to the level of a Patina.
Made-to-Order Handmade Patina Shoes
As you might now, on our Made-To-Order Program we offer Handmade Patina finishing in most of our shoes and accessories (more styles coming soon!).
Three different handmade patina finishings are available to order through your MTO platform: Regular, Marble and Papiro. The image below shows an example of Regular, Marble and Papiro patina finishings and how they look.

Additionally we have the Patina Intensity Selector feature on our MTO 3D Configurator Tool. You can choose the "intensity" of the patina, that is, the amount of shadow or aging effect applied.
Two intensity levels are available: the Standard Patina Intensity and the new Dark Patina Intensity, with darker shadows and dimmer tones. Learn more about the patina intensity.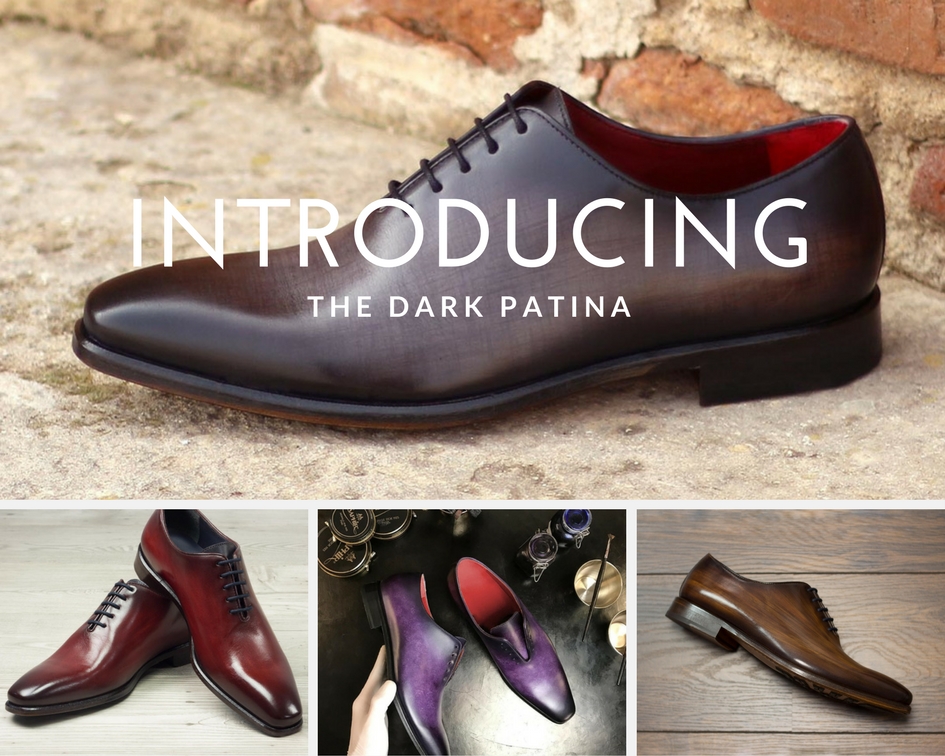 Most of our shoes and accessories are available to order using Handmade Patina. Try our 3D Demo Designing tool. Also, uou can find dozens of lifestyle pictures of our our Handmade Patina shoes and accessories on our Get Inspired Gallery
Handmade Patina Accessories (Belts and Bags)
It couldn't be any other way. Handmade patina belts are also available for order, and they look amazing: a pair of handmade patina shoes with a matching belt are the best combination. Additionally, handmade patina bags and other accessories are coming soon.